Gorilla Gold Megaways was released on April 16th 2020 by the hugely successful slots game designer Blueprint Gaming. It features 4 Megaways slots on one screen, each boasting 117,649 ways to win. It has the typical higher type of volatility that you see from Blueprint Gaming slots but also a fairly generous RTP of 97%. As it is basically 4 slots playing at once your bet stake is quardupled and an extra 20% added on for the "super bet", what this means exactly is actually unclear, please leave a comment below if you know! The maximum payout is 20,000 your stake or $250,000 with minimum stakes being 50 cents and a maximum of $50 or whichever your chosen currency is.
Play at the Casinos Below
Gorilla Gold Megaways Review
Graphics

Gameplay

Sound

Bonuses

Value
Overall Impression
Gorilla Gold Megaways slot offers something different to your average megaways slot game with its 4 games in play simultaneously. This certainly ups the excitement level and you can see a serious amoun of cascading reel wins pumped out after just a single base game spin. It is beautifully designed and the sound effects are perfectly suited to the game. However, it is highly volatile and when you are playing what is basically 4 slots at once, you can end up playing for some big stakes that you might not have otherwise gone for. The bonus round is excellent when you actually see the super spins feature kick in and open up the other slots which if combined together to make a total of 470,596 winning ways! If you were to take Gorilla Gold Megaways as a single slot it would probably be pretty par for the course but once you've added the 4 games in one to things it really kicks things up a level. Just be aware of the stakes you're playing for as it's rather easy to get carried away.
Pros
Exciting Super Spins Bonus
4 Individual Slots in Play at Once
Unlimited Win Multiplier
RTP of 97% is Above Average
Cons
High Volatility Unsuitable For Some Players
Visual and Sound Effects
First up the sound effects and music are suitably jungly, and we don't mean the electronic type of music stemming from the early 90s UK rave scene, though that would add something a bit weird, and maybe quite fun! Sound effects are pretty standard and for a Blueprint Gaming slot and not annoying, adding something extra to the gameplay.
Visually you have to expect that things aren't going to be as clear in Gorilla Gold Megaways as you're used to with most other slots, as you have 4 slot games going on all at once and this means that you've got considerably smaller individual screens. However, they are all still clear enough to easily see what is going on.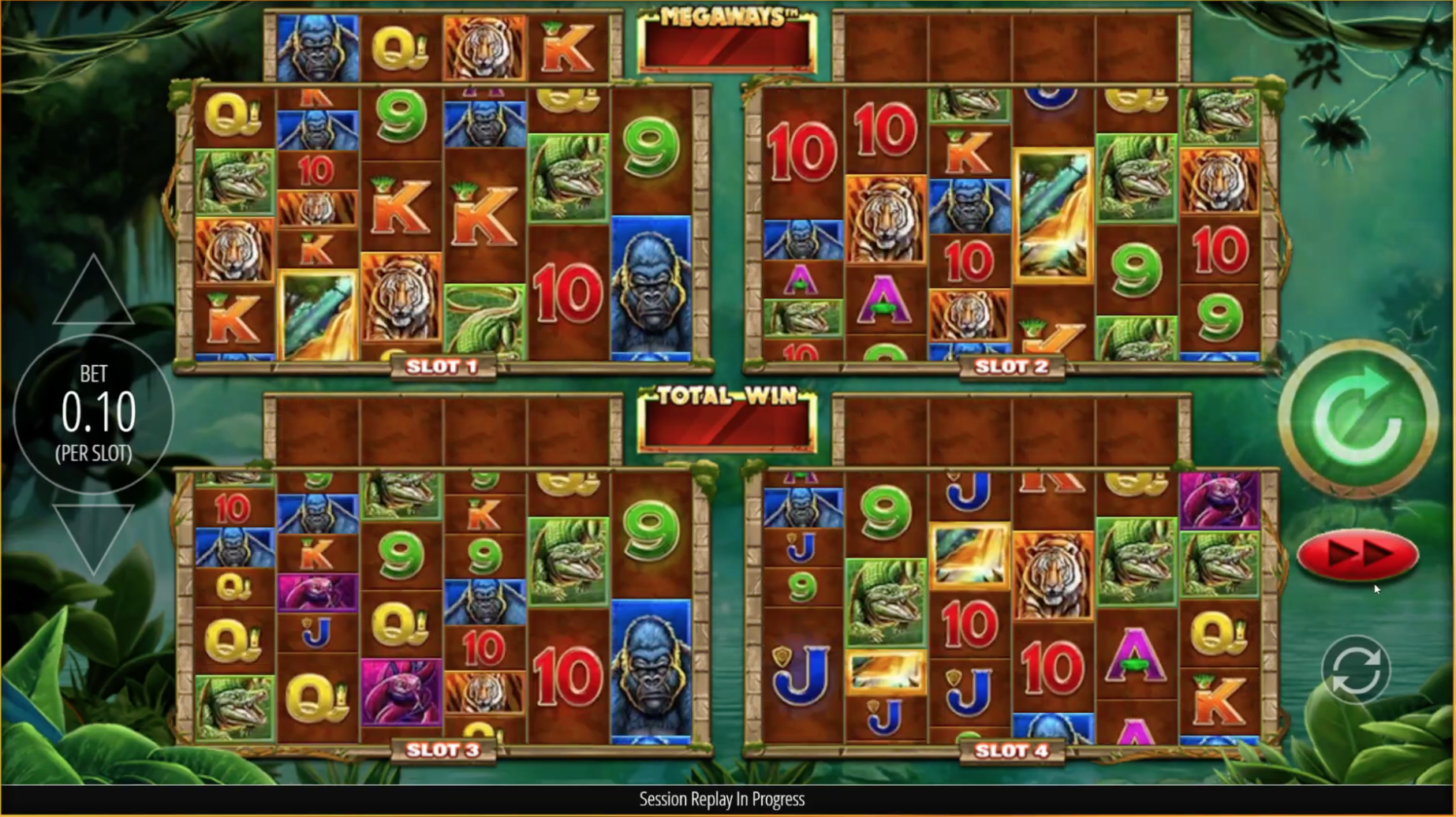 Gorilla Gold Megaways is set to the backdrop of jungle undergrowth and a river, when you hit the free spins round the sunshine breaks through the jungle canopy and shines down brightly over the river, giving a golden glow to the undergrowth.
The symbols found on the reels include 9 through to Ace as the lower paying ones. Then you have a Snake, Crocodile, Tiger and the Gorilla as the highest paying symbol giving you a return of 500x your stake for a line of 6. You can check out the full paytable in the image below to see exactly what is what.
The Wild symbol is simply the word "WILD" written in golden writing, This can only appear on the top reel which is located above reels 2,3,4 and 5. It can substitute for all symbols except the Scatter.
The Scatter symbol is a diamond, like the one to be found in Buffalo Rising Megaways and this can spin in anywhere except for in the special top reel above where the Wilds land.
Finally, you have a golden Mystery symbol which can land in any position on any of the reels.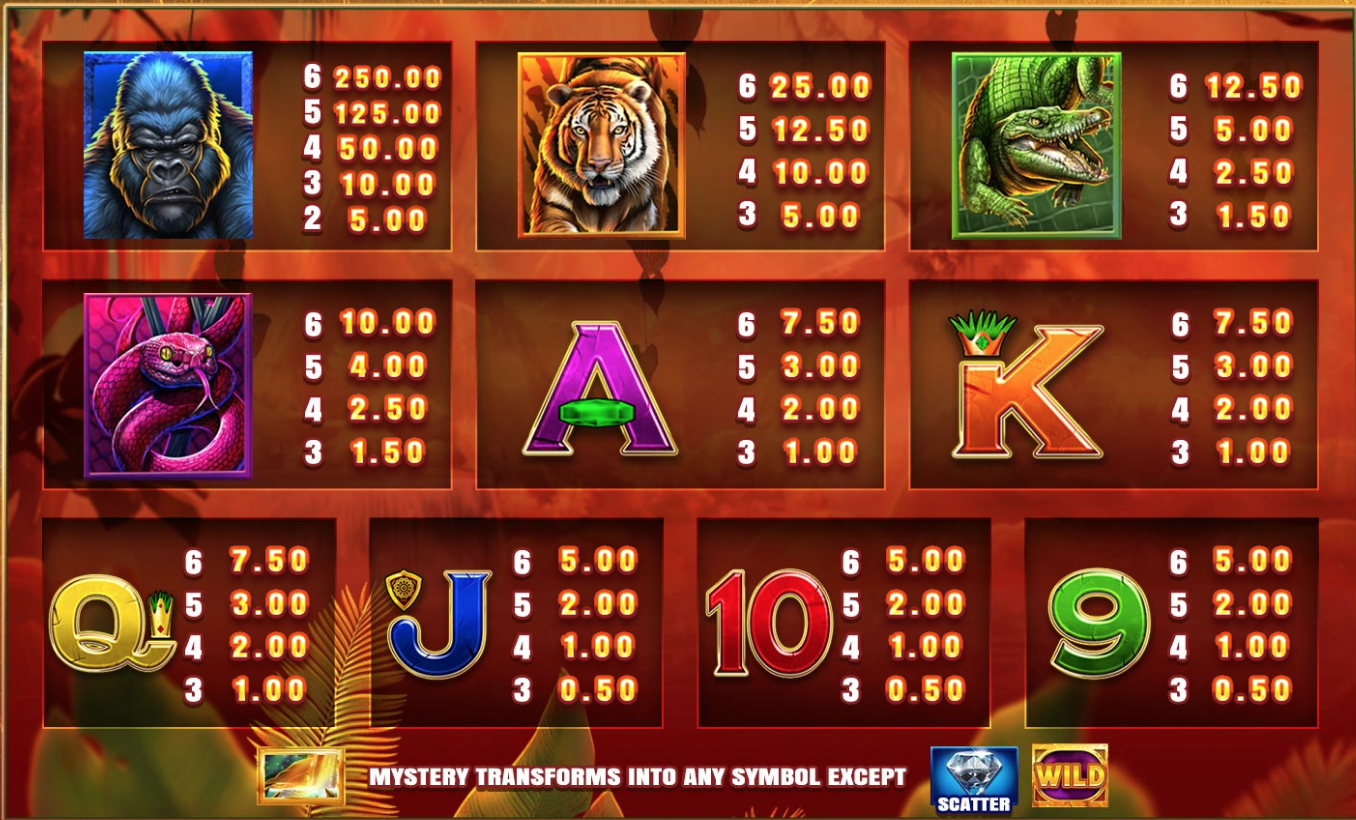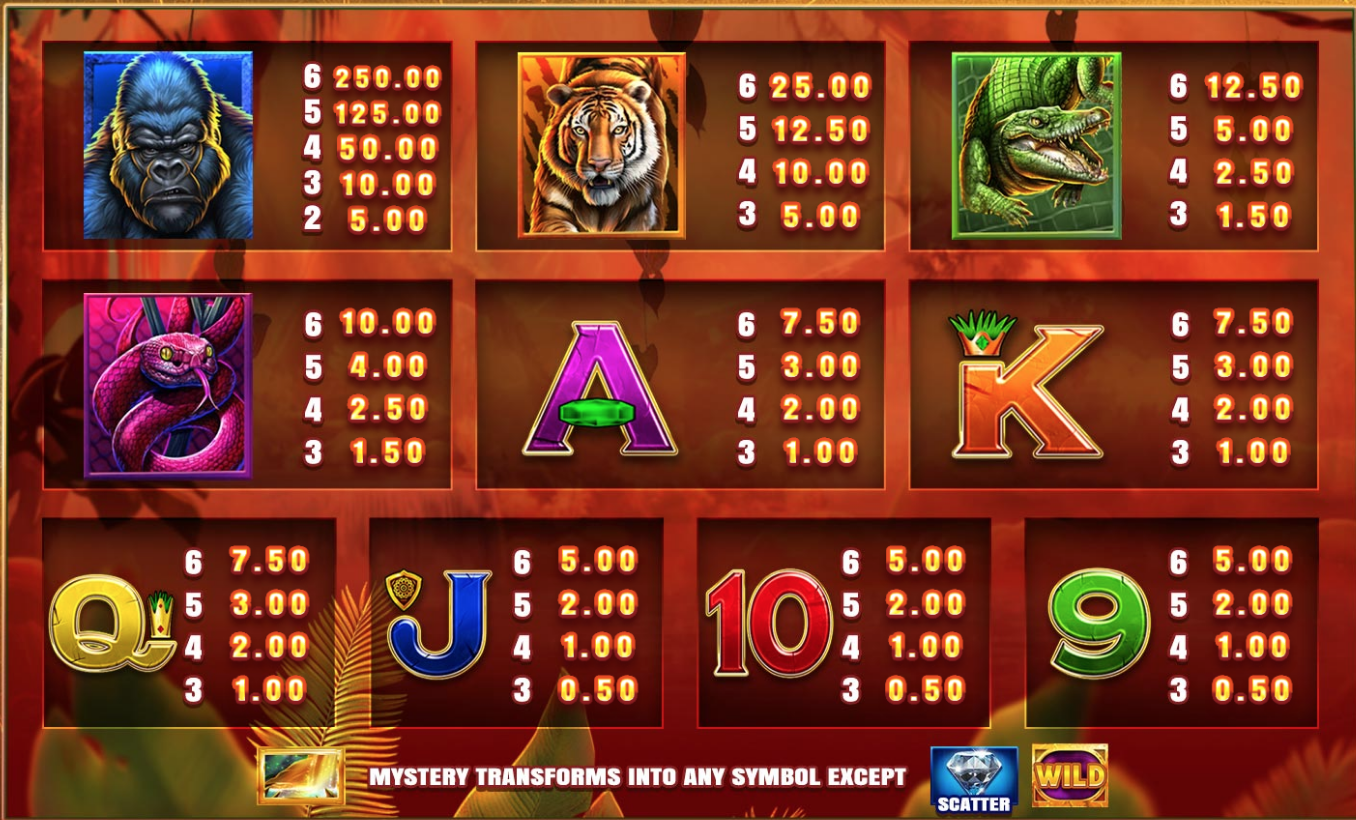 Cascading Reels
Gorilla Gold Megaways features cascading reels as do all Megaways slots. This means that each time a winning line is spun in all the winning symbols will explode to reveal new symbols. This allows you to form multiple winning lines from any single given win an comes in particularly handy during the free spins round when each win increases the multiplier by 1x.
Free Spins and Bonuses
The mystery symbols can spin in at any time and when they do so they will all change to reveal the same symbol. This can make for some decent wins during both the base game and in the bonus round. The only symbols the mystery can't change into are Scatters and Wilds.
The free spins are triggered by landing a minimum of 4 Scatters. This is known as the Gorilla Gold Bonus and it's certainly one with some massive winning potential to get the adrenalin pumping. The amount of free spins you get depends on the number of Scatters. You can also choose between taking normal free spins or opting for the super free spins which will give you less spins but the chance for bigger wins. This is as follow:
4 Scatters = Up to 20 free spins or 15 super spins
5 Scatters = Up to 25 free spins or 20 super spins
6 Scatters = Up to 30 free spins or 25 super spins
7 Scatters = Up to 35 free spins or 30 super spins
Now, you may be wondering why we say "up to" and this is because you will start lower on the free spins/super spins which are awarded to you. However, you're given the option to gamble the number of spins. If you lose the gamble you'll walk away with nothing though, so it's not for the fainthearted, especially when Gorilla Gold Megaways often sees players going in for bigger stakes due to the playing of 4 slots at once.
If you do decide to gamble your spins then you will do so on a wheel of fortune with 4 green and 4 red sections. The green is bigger than the red but if it lands on red then you lose and the amount of red present was certainly enough to make us think twice about hitting the gamble button.
Playing Gorilla Gold Megaways on the normal free spins during your bonus round will see just one slot activated and works pretty much the same as other Blueprint Gaming slots. It will give you a 1x multiplier for every cascading reels win. You can also trigger extra free spins if the Scatters land on the top reel. 3 will give 5 extra spins whilst 4 gives 10.
The Super Spins option allows you the possibility of opening up other slots into play during the bonus round. This is done by collecting the Gold Monkey symbols. You want to get 5 at a minimum 2 to unlock the second slot, then 15 will unleash the 3rd slot and finally 30 Gold Monkeys will see all 4 in play which is where you'e likely going to see the big moolah rolling in. Each time you get another slot unlocked you will also get a further 5 free super spins added to your total.
Bonus Guarantee – If you opt for the super spins in the bonus round and you get below 100x of your super spin bet a nifty little feature is built in which will trigger another 5 free spins.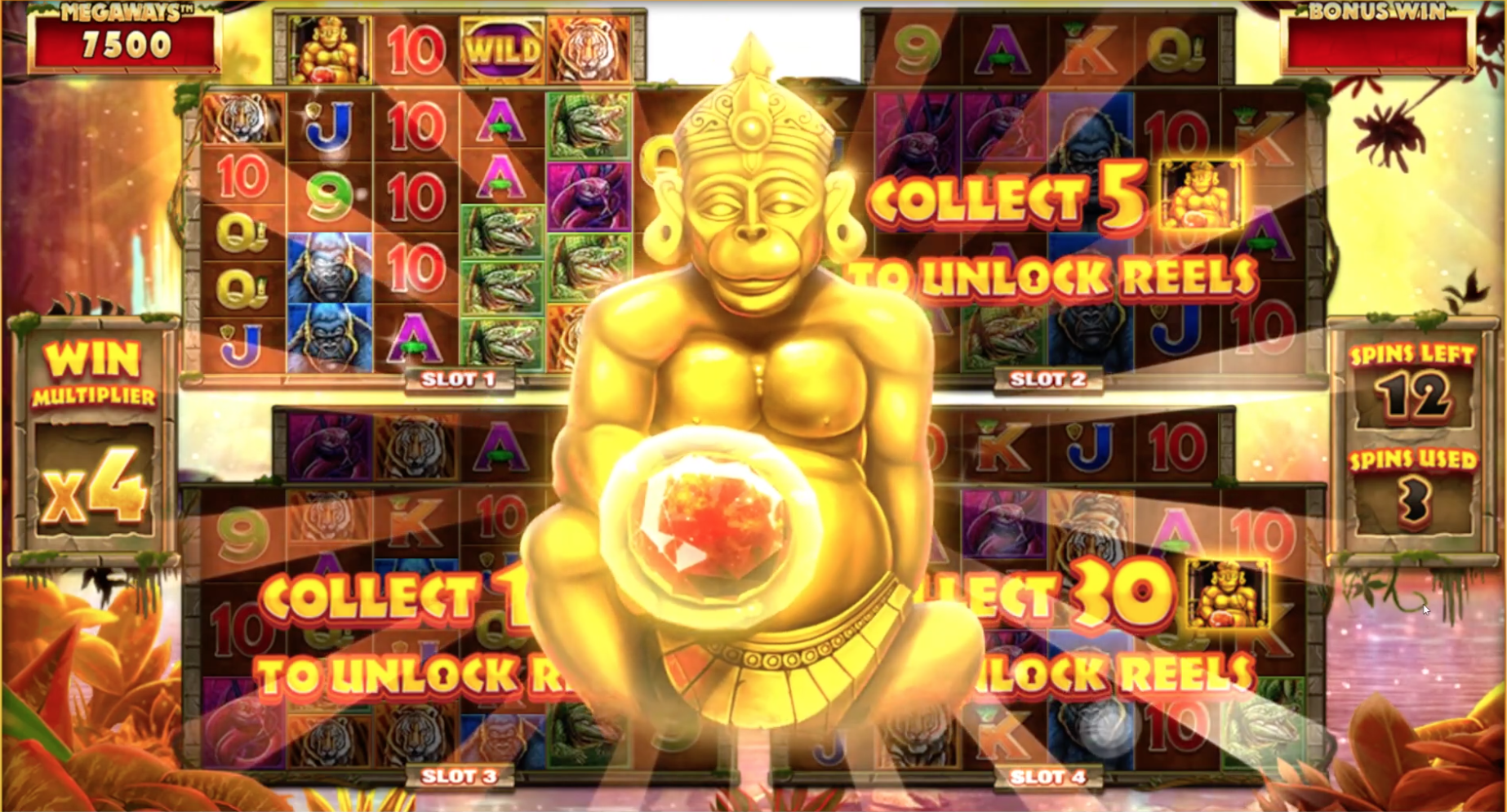 FAQ
?What is the Overall RTP of This Slot?
The RTP is a respectable 97%.
?How Many Individual Slots Are in Play During Each Base Game Spin?
There are 4 slots spinning each time you press the spin button on any base game.
?What is the Maximum Number of Megaways Paylines Available on Gorilla Gold?
There are a possible 470,596 ways to win if all paylines are in play.
?Which Bonus Features Does Gorilla Gold Offer?
You can get free spins, super spins, mystery symbol wins and cascading reels.
?Can I Buy The Bonus Feature?
No, it's not possible to simply buy your way to the bonus round of this slot game.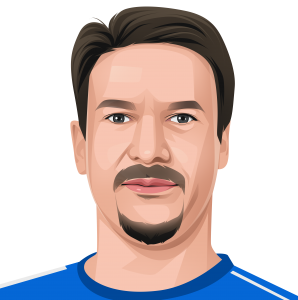 David is a veteran slots player with over 15 years of playing experience in both online and land based casinos. He knows exactly what makes for a good online casino and is always keen to share his expertise with other players.