In May of 2019 Evolution Gaming released their Monopoly Live casino game. It is a twist on their very popular Dream Catcher game and after spending a few hours playing it we can definitely say that it is one of the most highly entertaining live online casino games we have come across and one which is suitable for both high and low rollers.
Read our full Monopoly Live review below to get our full opinion on this game and to find out how it works. Or simply click on our selected casinos in the bonus table below and go try it out for yourself – probably best to have a read first to make sure you know exactly what the game entails though!
Play Monopoly Live at the Casinos Below
Monopoly Live is set in a studio which is actually on a green screen, but what you'll see looks like you're viewing the Monopoly Wheel on the backdrop of a city view from a skyscraper looking out over other buildings. You'll have the obligatory attractive host, smartly dressed and talking a load of nonsense who will spin the wheel for you. You also have a cool looking computer generated Mr Monopoly character sitting on a chair to the left of the screen, patiently waiting and sometimes reading a newspaper, ready to spring into action and play out the bonus round.
The Wheel and The Symbols
The wheel is made up of 7 possible different symbols which is can land on. It's all really about landing on the bonus symbols to start the board game where the really big money can be won and also this is the part of the game which makes it 10x more exciting than the original Evolution Gaming Dream Catcher game.
The symbols which you can land on are as follows:
Number 1 – Pays 1x Stake and there are 22 of them
Number 2 – Pays 2x Stake and there are 15 of them
Number 5 – Pays 5x Stake and there are 7 of them
Number 10 – Pays 10x Stake and there are 4 of them
Chance Card – Reveals a Cash Bonus or a Multiplier on the next spin
2 Bonus Rolls – This gives 2 rolls on the Monopoly Board Game
4 Bonus Rolls – This gives 2 rolls on the Monopoly Board Game
You can bet on any numbers you like and also on both the 2 Bonus rolls and the 4 Bonus Rolls. You can even bet on every single possibility at once, except for the chance card which you can't individually bet on.
It's All About The Board Game Bonus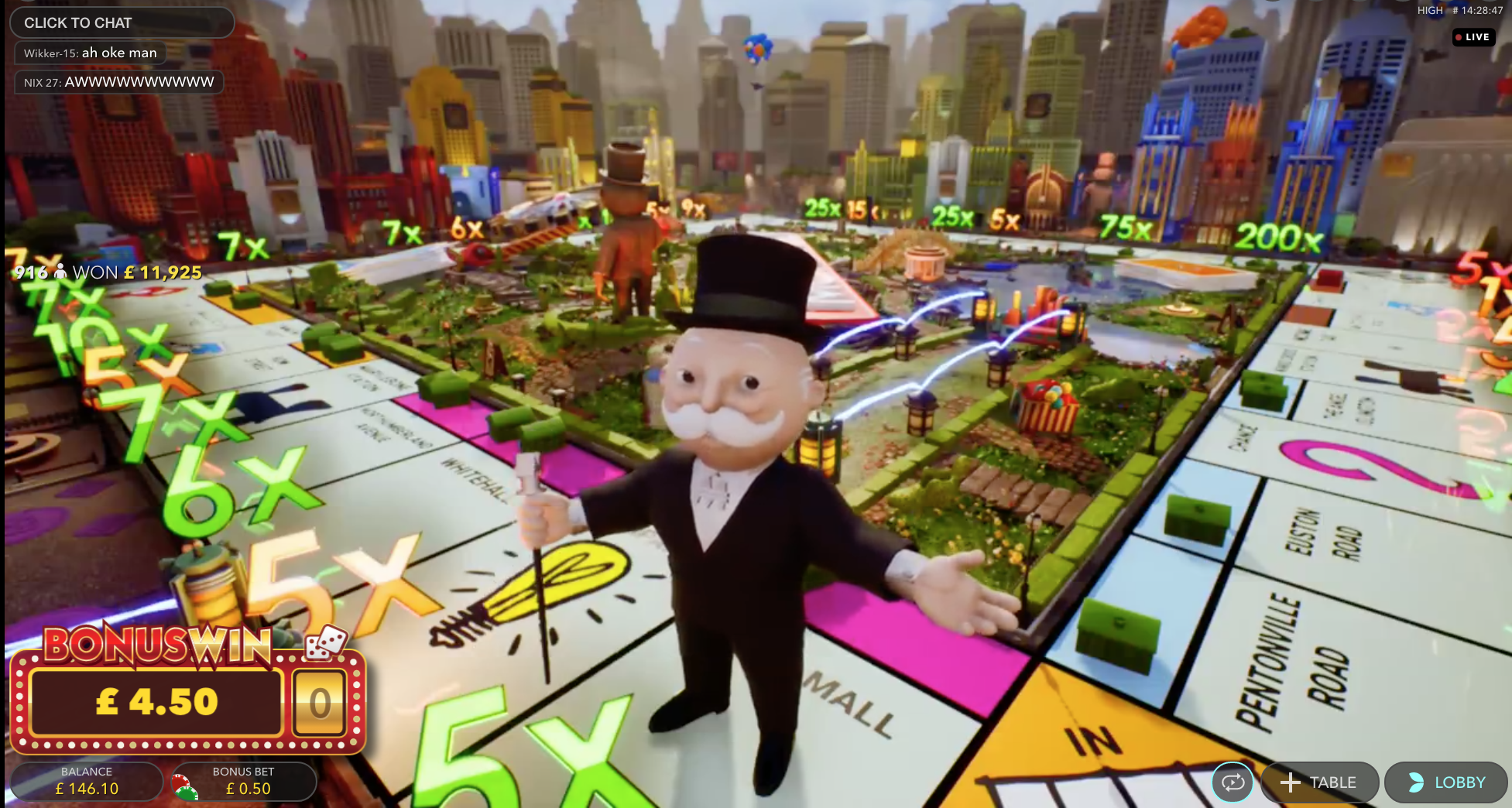 Although it adds a bit of extra excitement to place bets on the individual numbers spinning in, you'll get far more out of the game if you bet on the bonus rolls. If you do enjoy simply betting on the numbers then it's probably better to just play the Dream Catcher game. Getting the bonus rolls feature is pretty much like triggering the bonus round on any online pokies and is where the majority of the fun comes from.
By betting on the 2 and 4 bonus rolls coming in players are in with a chance of getting on the board game round when the wheel lands on these symbols. Once that happens Mr Monopoly will get up out of his chair and you'll be transported to a screen of the Monopoly Board game where all the individual landing spots on the board have a multiplier applied to them. The multiplier starts low at 2/3x for your Old Kent Road and Whitechapel Road and increases as you travel around the board with Mayfair begging at 100x.
Hotels and Building
Each time the bonus game starts you'll see hotels added to random properties on the board, this can see some huge multipliers, especially on Mayfair itself, and when we landed it on a 200x multiplier for the 4 rolls bonus round it was pretty enjoyable!
Roll A Double
Every time a double is rolled you'll get one single extra free roll of the dice added, just as you do in the actual Monopoly game. This helps you to get further round the board and increases the chances or landing on properties with higher multipliers.
Chance and Community Chest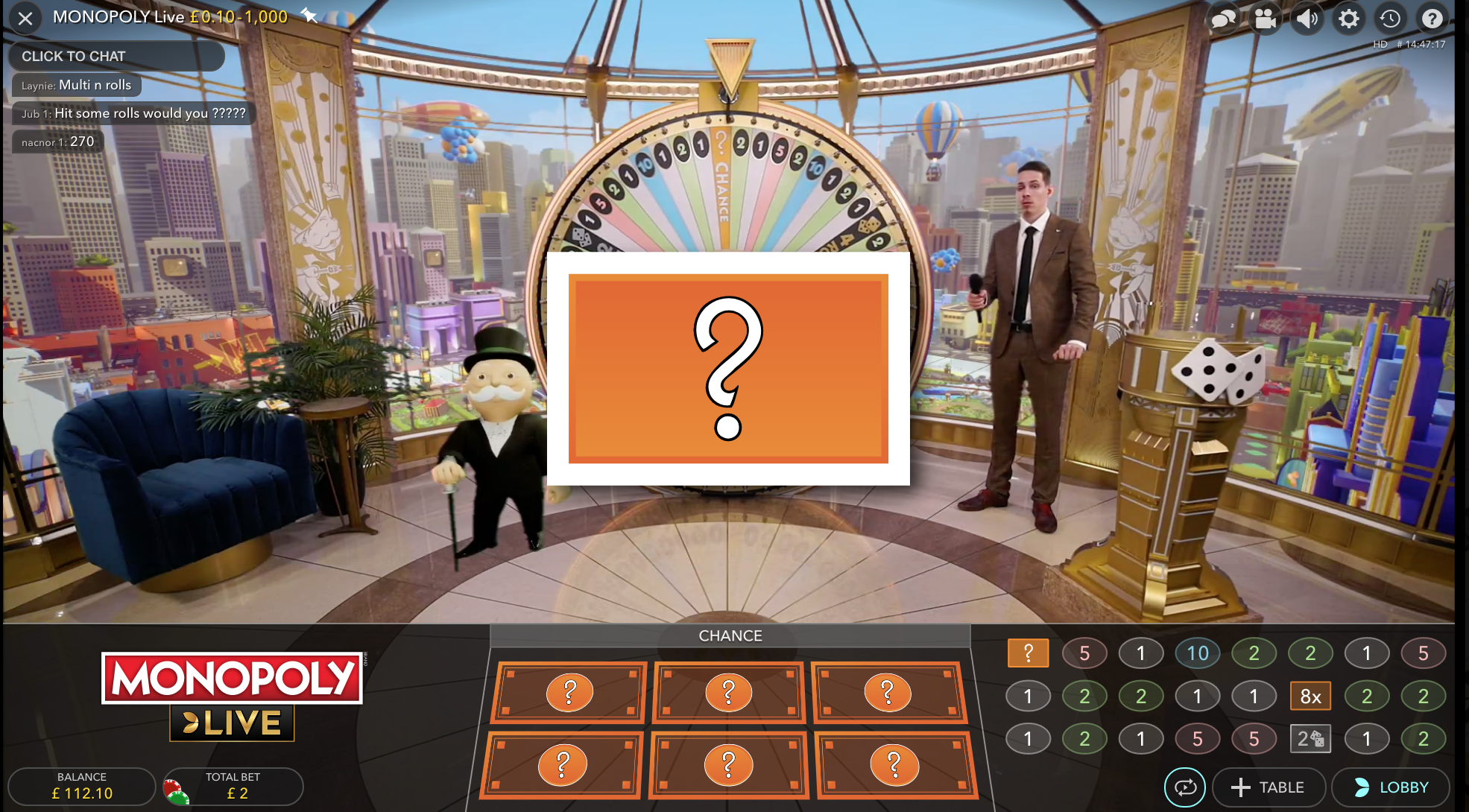 Just as in the real game you can land on Chance or Community Chest and you'll get a card that can either add some cash or take it away. You'll be hoping to avoid Doctors Fees and instead get Bank Pays You a Dividend Type cars, or even the 2nd Prize in a beauty contest triumph which we all know and love!
Income Tax
The dreaded Income Tax and Super Income Tax spots are, of course, also featured on the board. This will deduct 10% and 20% respectively of your total winnings. definitely one which you are praying doesn't roll in!
Pass Go and Double All Wins
If you manage to pass go you'll have all stake multipliers on properties doubled. This can really make for some nice bonuses but you're going to be hard pressed to make your way round the board much further than one full rotation.
Trigger The Bonus Game On A Chance Card Multiplier
Now this is really where the monster wins can rack up. If you land on chance you can get up to a 10x stake multiplier for the next spin, and if you land on the 2 or 4 bonus rolls you'll start the bonus game with all properties at a 10x to 100x stake and when the builder round starts you could see hotels land on some of the bigger properties, with Mayfair going all the way up to a potential 10,000x.
Go To Jail
If you're unlucky enough to land on the Go To Jail space then you'll need to roll a double to get out. If you don't then you forfeit all your winnings, which is certainly something you want to avoid! But it will happen at some stage if you play enough, just as it will happen that you land on Mayfair with a big fat multiplier, though!
Overall RTP
Whilst it's a seriously fun game to play i always helps to know the average RTP and the best betting strategies for optimal returns. The overall RTP is a little on the low side but by betting on numbers 2 and 10 you do get a 96% RTP. But if you take that to betting on the 1, 5 and 2 and 4 bonus rolls, you go from between 91.30% to 93.90% RTP. Compare this to the original Dream Catcher game which has an RTP of 96.58% and you can see that it's pretty close between the 2 games if they are played optimally. However, the Monopoly Live casino game is far more fun in our opinion.
Odds of Hitting The Bonus Rolls
If we look at the fact there are 54 segments on the board and there are 3 x 2 Bonus Roll segments and 1 x 4 Bonus Roll segment then you can see it's a 4/54 chance of hitting the bonus feature per spin. This works out as 1/13.5 or 7.41% per spin. This seems pretty reasonable but we did experience a far, far higher number of spins without a single bonus roll but then had 2 x 4 bonus rolls and 2 x 2 bonus rolls back to back.
Playing Strategy
We personally just bet on the 2 and 4 bonus rolls coming in. However, if you were wanting to hedge your bets you could potentially play the original Dream Catcher game simultaneously and bet on the number there whilst just betting on the bonus rolls on the Monopoly Live casino game. This might be a bit of a hassle though and i would personally recommend just betting on the bonus rolls or switching over to Dream Catcher entirely. You might also want to look out for non sticky casino bonus to get started playing with to boost up your spending funds. 
Monopoly Live Review
Graphics

Value

Enjoyment

Bonuses
Summary
Except for the RTP being a bit on the low side we can say that Monopoly Live is one of the best live casino games we have ever had the fortune to come across. It beats practically all table games and the amount of players present is indicative of the popularity of this online casino game. Make sure you bet on the bonus rolls each time as this is what makes the game special. Evolution Gaming have done themselves proud with the graphics on the actual board game bonus and Monopoly Live is an absolute must for all fans of live casino games.
Pros
Excellent graphics blended with real live play
Brilliant bonus feature board game
Perfect for both high and low rollers
Huge in potential up to 10,000x
Cons
RTP is low on certain bets
Bonus rolls can take forever to spin in
FAQ
? What is the maximum win on Monopoly Live?
The maximum that can be won on a single game is 500,000 or equivalent in the currency you are playing for.
? What stakes are allowed?
You can play from 10 cents up to 5000 per spin of you chosen currency.
? Is Monopoly Live a fun game to play?
Yes, it's a unique spin on live casino games and one which we think most players will thoroughly enjoy.
? Do I need a fast internet connection to play?
It certainly helps to have fast internet but if you don't you will be given a smaller screen to view the game on to help avoid potential interruptions.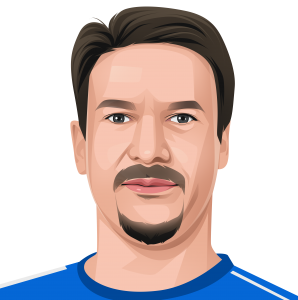 David is a veteran slots player with over 15 years of playing experience in both online and land based casinos. He knows exactly what makes for a good online casino and is always keen to share his expertise with other players.